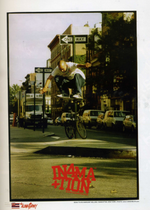 Today we feature our family and friend Sean Kelling.  This was an advertisement for a popular street fashion magazine called Antenna based out of NYC.  Sean is originally from Hawaii and has worked at one of the original streetwear shops called Funk Pistol on Keeaumoku.  He is also one of the original riders for Hawaii, Los Angeles brand Shaolin which as created by the legendary artists Slick and Jef Hartsel.
Sean's always kept me in the loop with brands, fashion and music...I got to hear the Tical album before it was even released as he had a tape of it.  Also while in NYC he rode for the infamous Rookie Skateboards, which was created by Elska Sandor.
The photo below is such a powerful photograph shot on 9/11/2019 by legend Mike O'meally.  The camaraderie of skateboarding at its finest on this horrific day.
We support you 100% Sean and thanks so much for all that you do for everyone.  Thanks everyone!!! Todd S