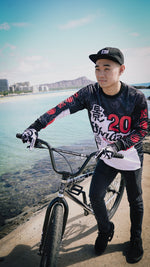 Shadow Conspiracy and In4mation have joined forces in creating a much-anticipated BMX-inspired collection that brings together form, function, and friendship.
The Shadow Conspiracy x In4mation Collection reflects both brands' keen emphasis on design and durability, purpose and passion. The six-piece roster includes a Gas Jacket, Race Jersey, Tee Shirt, Six-panel Hat, Gloves, and Tactical Hip bag, all featuring collaborative patches and prints. A limited edition 26" chrome BMX serves as the fulcrum of the collection.
A part of In4mation's ongoing 20th year Anniversary release series, the Shadow Conspiracy x In4mation Collection will be released on Friday, December 9, 2022 and will be available for online purchase starting at 8am HST at www.in4mation.co. The collection is limited.