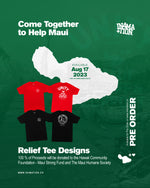 The devastation in Maui over this past week has impacted Hawai'i unlike any other event. With over a hundred lives lost and thousands of residents displaced, there's a great need for us to come together for Maui. We're releasing two Relief T-Shirt designs with 100% of the proceeds being donated to the Hawai'i Community Foundation - Maui Strong Fund and The Maui Humane Society. 

Please allow 4-6 weeks for your pre-order to be shipped.
Mahalo for your kokua!