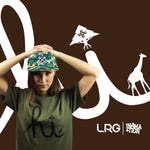 In 1998 I was hired as a buyer for a shop on Kapahulu Avenue. My job was to find brands that no one had in Hawaii.  The shop got mailed a mini catalog mailer which featured the Triple Threat DJ's which was Vin Roc, Apollo and Shortkut.  This instantly caught my attention as my prior job was doing events and bringing Vinyl Records to Hawaii.  Lifted Research Group was a brand that I instantly fell in love with as it had such a great look and feel to it.  In 1999 Ryan and I went to ASR in San Diego, but stopped by a shopping mall called the Lab in Costa Mesa.  We went to a skate shop called Empire and that was the first time I got to see LRG in person.  The brand had some great outerwear pieces and cut & sew which was clean and technical with PVC patches and bungee toggles.  I told Ryan…this brand is going to be huge!
As we went to ASR, I bumped into Shortkut and told him Hello. I asked Shortkut about LRG and he said, let me introduce you to Jonas.  We then go to the booth which was a 10 x 10 booth and it was so busy!  I got introduced to Jonas and I give him my business card and grabbed a catalog and order form then I went on my way.
Ryan and I fly back to Hawaii and start to look over the catalogs that we gathered.  The 2 brands we really chose to focus on was Alphanumeric and LRG. 
About a month later, I get a call from Jonas and he told me that he will be in Hawaii for the ITF DJ competition Finals.  I told him to come by the shop and we can show him around. We meet up and I ask…do you need a rep for Hawaii for the brand?  He then says…we were not looking for anyone but yes, if you think you can build this in Hawaii its yours!  This was my start of learning about how a brand was started and how it all works.
I worked at all the tradeshows through the years and saw the brand go from a 14 piece line to over a hundred sku's.  The marketing strategy for the brand was on another level as they used a lot of the underground artists such as Styles of Beyond and Planet Asia.  A true authentic approach towards what would become a brand that would grow into an empire.
In 2002, we opened up In4mation and as I needed to focus on the store/brand, I wrote my resignation letter to Jonas and he thanked me for everything that I did for the brand.  I was so happy to have been a part of a groundbreaking brand that has paved the way for others in this industry of action sports and streetwear.
The LRG x IN4MATION project is something that I hold dearly to my heart as it brings me back to the days of learning and building. The collection that we are doing was inspired by the early days of LRG and we are really trying to incorporate the looks and feels of what Jonas has done.  I just want to thank everyone at LRG from the past and the future and can not say enough thanks to the one and only Jonas Bevacqua.  REST IN PEACE.  Thank you everyone.  Todd Shimabuku
Thank you to: Moana, Adam, Sage and Vincent