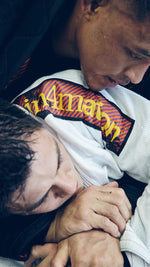 To celebrate Honolulu-based brand's 20th anniversary In4mation and Albino & Preto join forces for a commemorative capsule inspired by the 808. The brand(s) pay tribute to their upbringing with iconic backdrops and local spots such as "Mililani High School" and "The Ditch" In4mation's Ryan Arakaki's and the rest of the crews old stomping grounds. The brands shed light on the 808's chilled-out and laid back culture communicating the narrative of skateboarding, "grabbing chow" and of course training jiujitsu.
The collection features a full training kit with both no gi and gi variations as well as casual wears that feature the iconic "hi" logo coined by In4mation as well a collapsible bin for on the go or home storage. The special collaborative martial arts uniform comes in two color renditions, one of which will be exclusive to In4mation. Co-branded patches can found on the novo pants and the kimono top, a top that's built of 450gsm pearl weave cotton fabric for optimum durability on the mats. The no gi kit, bears proprietary A&P x In4mation graphics in high-quality sweat-wicking stretch fabric for uncompromised mobility both on and off the mats.
Topping off the capsule, the collection comes supplemented with graphic t-shirts and tanks perfect for the warmer climatizes well as post-training attire and a modular storage bin to store all your training or recreational supplies.