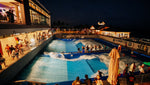 What a night! On Friday September 1st we were able to connect with friends at @waikailineup for the official release party of "MOSH PIT". A collection representing the past remixed for the present, celebrating the years of our ongoing collaboration with G-SHOCK! A milestone collection for both brands 🫱🏼‍🫲🏽 We appreciate the support of our friends, family, team and community throughout the years. Thank you for a successful launch of the Mosh Pit Collection and for celebrating with us this past weekend!
Mahalo @gshock_us @gshock_casio_official @casio_us for your continued support and collaboration
Thank you @djxl for providing the best jams all night!
Thank you to our film & camera crew @borttheafrican @tora_graphy @makana_paikai MAHALO MAHALO MAHALO #hawaiioriginals #in4mation #gshock #casio #moshpit #IN4M #hi #hawaii #waikai #waikailineup #slashershi