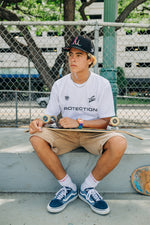 Marking G-SHOCK's 40th anniversary and In4mation's 20th anniversary, the inspiration for the new "Mosh Pit" timepiece came as a result of a mash-up of three of the most revered collaborations between the two brands, the Sea Foam, Salmon, and Purple Rain colorways. The new, reimagined model fuses G-SHOCK's iconic DW5600 design with the bold color pallet of In4mation's renowned style.
The DW5600IN4M234 is built on the iconic square DW5600 silhouette, serving as a canvas for In4mation's artistic expression. The classic "hi" symbol, which appears when the backlight is activated, is a nod to the brand's heritage along with the In4mation logo on the back case and band that marks the shared creativity for this collaboration.
In4mation, rooted in Hawaiian surf culture, combined with G-SHOCK's relentless pursuit of durability and innovation, set the stage for a unique partnership more than 15 years ago, and is one that continues to resonate deeply with streetwear enthusiasts across the globe today.
Through this ongoing collaboration, G-SHOCK continues to nurture innovation and originality in every timepiece created. The Mosh Pit timepiece showcases key G-SHOCK features including shock resistance, 200-meter water resistance, EL backlight with flash alert, multi-function alarm, stopwatch, timer, and 12/24-hour time formats.