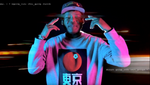 Castle Park - Night Writer. Directed by Joseph K Pa`ahana.
Castle Park was formed in 2015 by veteran hip-hop drummer Keli'i Wong (of Sample and The Spacifics) in Honolulu, Hawaii.  
​Fronted by local legend and Honolulu emcee Travis Castles (Omega Cix), the group blends a classic boom-bap Golden Era aesthetic with a surf-rock vibe, while Travis Castle's wordplay references local culture and esoteric conundrums.  
​Sean Ho (formerly of the Spacifics) and Paul Bajcar (of Earl Grey and Itramonti) hold it down with raw, vintage guitar riffs, while longtime boom-bap producer dkind joins on bass.